Here you will find every information about the location of the Free the Soil Camp and how to get to the camp site by car, public transport, bikeride, the camp shuttle and several buses going from Denmark, the Netherlands, France, Belgium and Germany.
Location of the camp site:
The Free the Soil camp will be in 25572 Sankt Margarethen a small but very beautiful village near Brunsbüttel in Schleswig-Holstein / Germany. St. Margarethen is located 80 km north-west of Hamburg.
From the center of the village (where the church and the community center are located) it is 5 minutes walk to the camp site. Signpost will show you the way.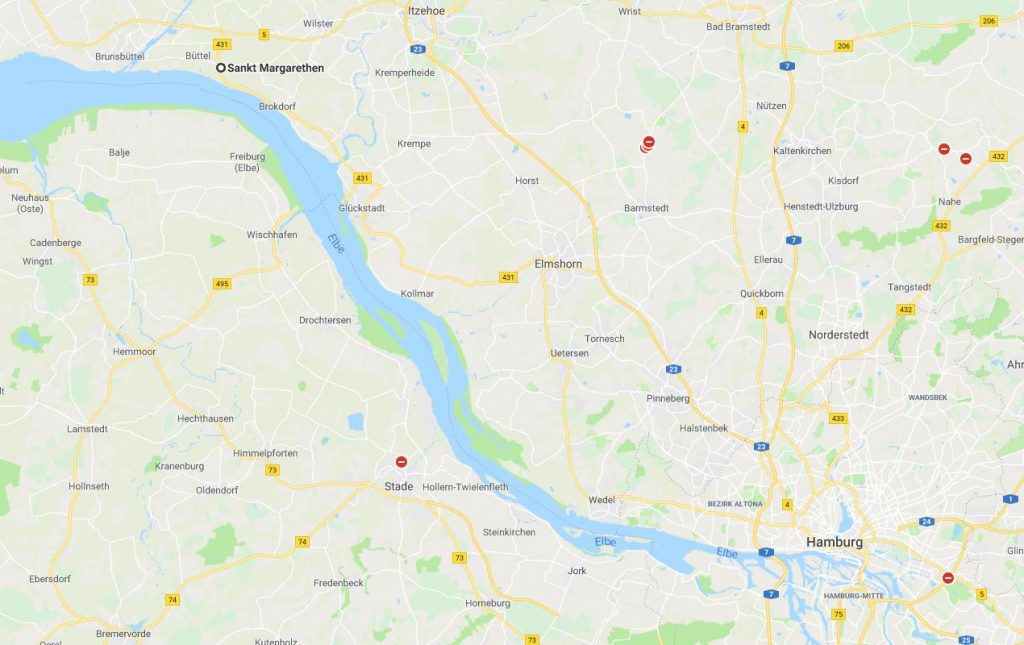 Getting to Sankt Margarethen
Basically everything you need to know about how to get to Sankt Margarethen can be found in the overview document: Download here
In General: It might happen that the police stops vehicles and checks your ID. If you get stopped, inform the legal team (0049 (0)30 340 603 13). Please read this document before your journey to St. Margarethen to come prepared.
By public transport: There is one bus going from Itzehoe where a train station is located to Sankt Margarethen and another one also going from Itzehoe to Brunsbüttel (from where it is a 6 km walk or where shuttle could pick you up). So travel to Itzehoe via trains and check the document mentioned above for departures of the buses.
By car and by bike: You will find a route description in the overview document. Please note, there will be designated parking areas for cars in Sankt Margarethen. Please watch out for signs.
Camp Shuttle: We would like to ask you to organize your journey to the camp as independently as possible. For people who need help with traveling (e.g. wheel chair, late arrival), we plan to set up a shuttle service between Itzehoe, Wilster, the Brunsbüttel canal ferry and the camp. Call us on the follwing number 0049-(0)15208440215.
Free the Soil buses
There are several buses going to the Free the Soil camp being organized. So far we have buses traveling from:
Copenhagen, Denmark
19-25th of September
The bus is stopping in Fredericia on the way to pick people up
For more information click here; To buy a ticket, go to: www.aktivisme.info
Amsterdam, Netherlands
19-25th of September
For more information click here.
Brussels, Belgium
20.-25th of September
For more information click here or here.
Paris, France
Departure: 21th of September
For more information click here or book directly here.
Are you organising a bus from your hometown?
Please let us know so we can help share the info and get people on board. Please write: freethesoil@riseup.net. We unfortunately can't offer any reimbursement for buses.